In

two management professionals set out on an exploration of the Indian Himalayas- a journey through its entire length, from Itanagar (Arunachal) in the east to Leh (Kashmir) in the west.

They saw the severe deprivation of the indigenous communities, the enormous and yet fast depleting natural wealth, the tremendously rich but eroding culture and traditional knowledge. They saw the conservation and development needs, and the neglect. The vision of Pragya was born, which stands for the path to sustainable development through the application of modern technical and managerial knowledge to development issues and needs, blending it with the ancient wisdom of nature-based peoples.
By

it had drawn together a group of professionals from different mainstream disciplines like management, engineering, economics and agri-business on the mission of appropriate development of the most difficult and least addressed regions. These professionals were united by a strongly felt responsibility for serving the deprived & forgotten people of such areas, primarily mountain regions and other remote & pristine locales marginalised in the development process. Stepping out of the comfortable mainstream, Pragya members moved into the mountains, taking with them their superior competence in their disciplines, their ability to create and manage development, and their zeal and determination. Their approach was unique - innovative, business-like, issues-focused and target-oriented. Our early work was focused on management of the ecology and culture of the Himalayas, among its greatest and most visible wealth.
The year

saw us winning our first major accolade: the Whitley Award for International Nature Conservation. Motivated, we extended our work to cover the entire high altitude belt of the Indian Himalayas. Communities too recognized our work and came to us with other needs that spurred us onto other sectors: livelihoods development, renewable energy, water management, education, health, etc. At the same time, we felt the need to touch the international community in a bigger way, and set up Pragya-UK to carry our message to people in Europe and mobilize their support. We also won our second major international recognition in a new sector – the Energy Globe Award (2005) for our work on renewable energy.
In

Pragya moved to implement projects beyond the India boundaries. We wished to replicate the work we had done and methods we had tested and firmed in other similar remote and difficult regions, for the benefit of deprived communities in these areas. Pragya-Nepal began with grassroots projects in the most remote parts of the country, working on issues of health & sanitation, education and livelihoods development. Pragya-Africa was set up next with preliminary need assessment and initial work on water security, livelihoods development and education. Documentation and research, and development advice & services, were developed as a key area in Pragya, with the purpose of sharing lessons learnt, disseminating information, shaping appropriate programming, and advocating for policies. International recognition came in the form of the STARS Impact Award (2010) for our work on education. We ended the first decade of this century with the set up of Pragya-US in 2011.
Pragya is today a unique fellowship of learner-influencer-practitioners bonded together by a strongly felt commitment and certain common values. Projects are being carried out in some of the most remote and difficult regions of the world, conserving the natural and cultural heritage, developing rural livelihood options and enhancing incomes, and building capacity in the indigenous communities. Much has been achieved. Capacities have been built in indigenous communities and some internationally recognised success stories have been created. Strategic partnerships have been established with indigenous institutions as well as international foundations. Government support has been accessed and international awards have been won.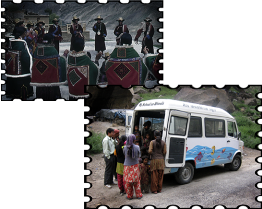 The enormous lot that remains to be done drives us continually on to other issues and communities that need to be addressed, new projects and new regions.